Norwegian Timber Frame Company upgrades to Extended LT70 Sawmill
From cozy lakeside cabins to mountaintop luxury vacation homes, this Norwegian company does it all with their new Wood-Mizer LT70 Sawmill.
Simostranda Stav & Laft is a timber frame construction company located outside of Oslo. The company is operated by Sveinung Bergan and Einar Holm, who have worked together as partners for 22 years. Einar was building cabins in the woods behind his house even as a young boy. He says he was born to build houses. Sveinung worked with trucks and other machinery for many years before he started working together with Einar to build houses. He likes getting to work with his hands every day. They specialize in comprehensive log home solutions for their clients, handling all aspects from the design through to installing the sod on the roofs of their green-roof homes. Their experience is at the client's disposal, and they are capable of providing rough cabins in the back woods or luxury vacation homes on mountaintops. They have sub-contractors for all the electrical and plumbing work as well, so their clients don't need to source other contractors. Simostranda Stav & Laft is an all-in-one solution, with unbeatable experience and emphasis on quality. "Wooden homes have a rich and long tradition in Norway. Wooden houses breathe and are healthier. From the Viking Age until the 19th century, this was the dominant way of building wooden houses in Norway. The techniques then and today are mostly the same, because it provides solid and beautiful buildings. We strongly believe in preserving the Norwegian tradition for building homes."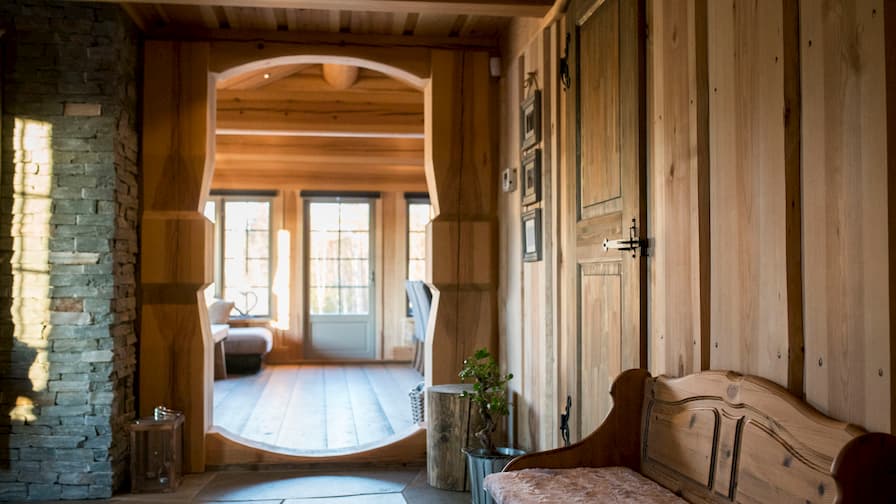 "Our philosophy is that our products should be unique and solid. We have our own sawmill and cut everything we use. All panels and floors are handmade, and we also make customized interiors. This means that we are always sure of the quality we deliver to the customer." Their timber is harvested from local area forests and cut into long beams with their new Wood-Mizer LT70 sawmill. The beams are then set aside to dry for two years, so timber is always available for future projects. Once a project is ready to start, they select from their stock of dried beams and then saw them again to the final dimensions needed. The timber components for the project are then cut to fit together with all the necessary joints, and the whole project is assembled in their workshop. Various saws, chainsaws are used to make sure the joints fit and the timber surface is even touched up by hand with an axe. Then the project is disassembled, loaded onto a trailer, and driven to the site for assembly to begin.
These timbers aren't available commercially. Einar and Sveinung custom cut every timber for the individual project. "We use the sawmill for almost everything – floors, roof, beams, to shape the logs, tables - almost everything in the project is processed on the sawmill."
Previously they used old LT40 from that they had from 1991, and in 2018 they upgraded to a new LT70 with much faster hydraulics. Their sawmill was customized for their needs with an extra-long bed extension. Two hydraulic bi-directional chains turners turn even the longest logs, and hydraulic power rollers can adjust log back and forth on the bed. With this bed configuration they can cut logs up to 12 meters long.
"We were really happy with our old sawmill and we decided to get another Wood-Mizer due to the service available from Wood-Mizer's Branch office in Norway. When we need it, the service is available." "Wood-Mizer is a good solution for Norwegians because there are so many farmers. The sawmills are safe and easy to use."